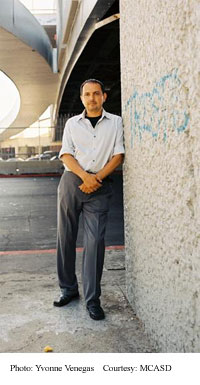 Radicalizing the Local: Post Bubble Urban Strategies
TEDDY CRUZ
MONDAY, MARCH 22, 2010
Teddy Cruz believes that "institutions of architecture have lost their socio-political relevance and advocacy." Challenged by the perennial alliance between militarization and urbanization at the San Diego/Tijuana border and reproduced in many U.S. neighborhoods, the work of Estudio Teddy Cruz builds out of these trans-border urban dynamics, using this territory of conflict as a backdrop to critically observe the clash between discriminating "forms of urban economic re-development and planning legislature and the emerging American neighborhoods nationwide made of immigrants whose spatial tactics of encroachment thrive on informality and alternative social organizational practices." (California Architects- Estudio Teddy Cruz)
Teddy Cruz searches for ways to transform discriminatory "legislature and lending structures in order to generate a new brand of bottom-up social and economic justice that can bridge the political equator." Need an explanation? Follow this link:
http://www.world-architects.com/index.php?seite=ca_project_details_us&system_id=18111&profile_sprache=us
.
Estudio Teddy Cruz has received awards for projects on both sides of the border, including various AIA San Diego chapter awards, Progressive Architecture Awards from Architecture Magazine, and the Architectural League of New York Young Architects Forum Award. It was selected as one of the national "Emergent Voices" in architecture by the Urban League in New York City. Estudio Teddy Cruz has been published in various architectural journals and newspapers, including
The New York Times, Global Architecture, Log, Progressive Architecture, Architecture Record, Casas International, Thresholds MIT, The San Diego Union, The Los Angeles Times, Praxis Magazine
, and Princeton Architecture Press'
City Limits
. It also exhibits locally, nationally, and internationally.
Teddy Cruz is currently an associate professor in Public Culture and Urbanism in the Visual Arts Department at the University of California, San Diego. He received his (
B.A.-1982
: Rafael Landivar University Guatemala City,
BArch-1987
: California State Polytechnic University San Luis Obispo,
Fellow-1991
: Rome Prize in Architecture,
MDesS-1997
: Harvard University GSD), beginning with an experimental summer workshop at SCI-ARC, his LA/LA
Latin America/Los Angeles
studio, has taught and lectured in various universities in the US, Latin America, and Europe. From 2000-2005, Teddy Cruz was associate professor in the School of Architecture at Woodbury University, San Diego. For his contributions to architecture pedagogy, Teddy received the Robert Taylor Teaching Award from the ACSA. And, he was awarded the 2004-2005 James Stirling Memorial Lecture on the City Prize, sponsored by the CCA in Montreal, the Van Alen Institute in New York, and the London School of Economics and Political Science.
Teddy Cruz's visit and talk are sponsored by the CMC History Department, the Luce Grant in the History Department and the Athenaeum.