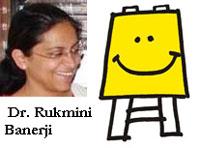 2010 Henry R. Kravis Prize in Leadership
The Pratham Story: Inspiration, Challenges and Ideas
RUKMINI BANERJI
THURSDAY, MARCH 25, 2010
LUNCH 11:30 a.m., LECTURE 12:00 p.m.
Since 2006, the Kravis Leadership Institute at CMC has awarded its Henry R. Kravis Prize in Leadership to a distinguished recipient in honor of his or her accomplishments in the non-profit sector. The 2010 recipient is Pratham, the leading non-profit provider of primary education in India. Dr. Rukmini Banerji is Program Director for Pratham and head of the ASER Center (Pratham's Research Unit).

Established in 1994 with the support of UNICEF, the Mumbai Municipal Corporation and local businessmen, Pratham first sought to provide pre-school education to children living in the slums of Mumbai. Since then, it has implemented remedial education and literary courses through the community. In 2007, it launched its flagship program, Read India, which targets children from 6 to 14 years old. Read India has reached about 34 million children to date in 21 states in India. The program was the first beneficiary of the partnership between the Bill and Melinda Gates Foundation and the William and Flora Hewlett Foundation to improve the quality of education in developing countries. Pratham also runs a publishing house to release low-cost books in 11 Indian languages. The organization further oversees a yearly evaluation of children's learning levels and distributes its findings in the Annual Status of Education Report, which is used widely by governments, policymakers, academics, and other non-profits.

Dr. Rukmini Banerji will be representing Prantham at the Athenaeum. Initially trained as an economist in India, Rukmini was a Rhodes Scholar at Oxford University and completed her Ph.D. at the University of Chicago. She did her post doctoral work at the Population Research Centre at the University of Chicago and later worked as a program officer at the Spencer Foundation before returning to India in 1996. Currently, Rukmini is responsible for Pratham's work in several major states in north India. She is also a lead member of the team that conducts ASER (Annual Status of Education Report). ASER is the largest annual study ever done by Indian citizens to monitor the status of elementary education in the country. In 2008, this citizen's audit reached over 7,04,000 children in 16,198 villages of India. In the four years since it was initiated, the ASER effort has been widely recognized for its innovative use of citizens' participation in understanding and improving the delivery of basic services.