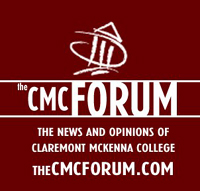 CMC Forum Idea Night at the Ath: Circular Thinking
JEREMY WOLFF '13
CMC Forum Idea Night at the Ath: Poverty has Nothing to do with Money
JOHN-CLARK LEVIN '12
JASON STOLL '12
CMC Forum Idea Night at the Ath: The Committee
ERIC SCOTT '11
BEN KRAUS '11
CMC Forum Idea Night at the Ath: Roman Execution- A Practicum
EMILY FORDEN '10
CMC Forum Idea Night at the Ath: The Future of Philanthropy
ROXANNE PHEN '10
CMC Forum Idea Night at the Ath: The Technological Utopia
ALEX CALDWELL '09
THURSDAY, MARCH 25, 2010
What do you get when you cross a thesis defense with a startup pitch?
The CMC Forum
is proud to present Idea Night at the Ath.
Whether it's a challenge from a summer internship experience or maybe a long paper written for a semester abroad, CMCers are constantly doing new and interesting things in the academic community. Often times, these projects are submitted to an advisor or the paper is turned into a professor, and never looked at again. Students retain the wealth of experience and information they've learned from these experiences and deserve a chance to showcase them for their like-minded peers. The CMC Forum is pleased to present that opportunity at a venue built for this very purpose: The Athenaeum. In true liberal arts form, this event will be an exchange of ideas.
Students are invited to submit papers, projects, or original research for the enjoyment of the CMC community on CMCForum.com/ideanight. Participants and their topics will be selected by a committee of student representatives for uniqueness, interest, and quality. We are looking for interesting arguments on any topic -- politics, culture, CMC, etc -- and although the content will vary greatly, the form will remain constant: each participant will have 10 minutes and a podium. Presentation skills will be valued equally alongside content. At the end of the event, the audience will be asked to rank the speakers on their interest and persuasiveness, and while everyone will get a token of our appreciation, the winner will get a special prize: a little piece of CMC named after them (e.g. the Dave Edwards Drinking Fountain).
A full roster of participants and topics will be announced shortly. Stay tuned to
CMCForum.com
for updates, previews, and more.