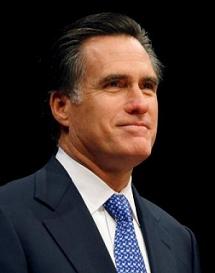 No Apology: The Case for American Greatness
MITT ROMNEY
THURSDAY, APRIL 15, 2010
As the former Governor of Massachusetts and Presidential candidate in 2008, Mitt Romney needs little introduction to CMC students. Romney is a widely recognized leader in the Republican party and has distinguished himself as a successful politician-entrepreneur. In his address at the Athenaeum, Romney will offer his solutions to the challenges facing America today.

Romney first earned his leadership credentials as Vice President with the management consulting firm Bain & Company. He then went onto found Bain Capital, one of the nation's most successful venture capital and investment firms. Prior to 2002 he left the private sector to become President and CEO of the Salt Lake Organizing Committee for the Winter Olympic Games. In this role he directed an incredible turnaround of the Olympics, at one point saddled with $379 million in debt. Romney stayed in the public sector, running successfully as a Republican governor of Massachusetts in 2002. During his administration, he managed to balance the budget and even implement universal health-care reform. In the 2006 election cycle, he raised $27 million for GOP state legislator elections as the Chairman of the Republican Governors Association. Since then, he has become a political force to be reckoned with, amassing large amounts of popular support in the 2008 Republican primary and since then as a luminary in the party. He just recently published his new book No Apology: The Case for American Greatness (2010).

Governor Romney received his B.A., with Highest Honors, from Brigham Young University in 1971. In 1975, he was awarded an MBA from Harvard Business School, where he was named a Baker Scholar, and a J.D., cum laude, from Harvard Law School.

The Pacesetters Fellowship Program is the culmination of the hard work and dedication of alumni from the classes of 1948, 1949, and 1950 — the Pacesetters. Governor Mitt Romney is CMC's eleventh Pacesetter Fellow.