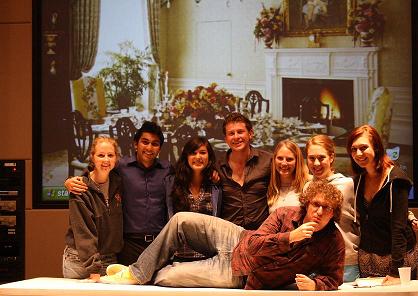 UNDER THE LIGHTS presents
Dinner Theater
The Dining Room by A.R. Gurney
WEDNESDAY, APRIL 7 – FRIDAY, APRIL 9, 2010
DINNER 6:00 p.m., PERFORMANCE 6:45 p.m.
Each spring, the Athenaeum hosts a production by Under the Lights, CMC's student-run theater group. This year, UTL will perform The Dining Room, written by A.R. Gurney in 1981.

The play takes place in a typical dining room of a well-to-do household, and explores the lives of the families that have inhabited it over the years. It consists of eighteen independent scenes: some funny, some rueful, and some poignant. Throughout, the actors take on a range of characters: from small children to stern grandfathers to teenagers drinking when their parents are away. The scenes coalesce to tell a story about upper class American life, rich with humor and humanity.

The all-student cast features Nico Brancolini '11, Chloe Cotton '12, Shamil Hargovan '10, Will Kahn '12, Bri Riggio '10, Julia Starr '12, Max Sterling '10, Caroline Taylor '10, and Andie Wheatley '13. Cory Davia '10 directs.

Don't miss this opportunity to see your friends and classmates perform!