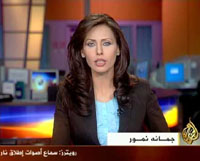 Arab Media Today
JOUMANA NAMMOUR
WEDNESDAY, APRIL 14, 2010
Joumana Nammour is one of the most popular news anchors at Al Jazeera Satellite Television Channel. She joined Al Jazeera in 1998, and she has become one of the leading program hosts and anchors at the 24-hour news channel. During the past twelve years, Ms. Nammour has interviewed numerous heads of state, prime ministers, senior government officials, and leading political figures in the Arab World and internationally. She has also covered the wars in Iraq and Afghanistan, and the Arab-Israeli conflict.

Ms. Nammour has her own daily political talk show, called "Behind the News," which focuses on current and political events and leading international news stories. "Behind the News" is one of the most widely watched political news and public affairs programs in the Arab World, and Ms. Nammour received an award in 2008 for being the first Arab woman to host a regular political talk show. The award was presented to her at the "Women and Global Leaders Forum" meeting in Dubai.

Nammour began her career in Lebanon as a news reporter and then presenter on Lebanese television channel NTV. She also worked as a producer and anchor on Lebanon's Future TV, where she launched the Arab World's first daily morning news program in the 1990's, called "The World this Morning." The program was very popular, and it became the most watched morning show in Lebanon. Ms. Nammour earned her undergraduate and graduate degrees in anthropology and sociology in Lebanon. She is married and has two children, and she resides in Doha, Qatar.

Launched in 1996, Al Jazeera Satellite Channel quickly became one of the largest and most viewed Middle Eastern news channels, and the first channel in the region to offer news coverage 24 hours a day. The station's headquarters is based in Doha, Qatar, and today Al Jazeera Network has more than fifty bureaus around the world with 180 employees. More than one thousand journalists, directors, producers, and administrative staff work at the Al Jazeera headquarters in Doha. The station is viewed throughout the Middle East and internationally, and has some 75 million viewers.

Joumana Nammour's visit to campus is sponsored by the Arabic Studies program at CMC and the Athenaeum.