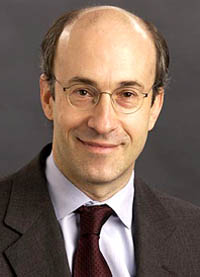 McKenna Lecture on International Trade and Economics
KEN ROGOFF
MONDAY, MAY 3, 2010
As an annual tradition CMC hosts the "McKenna Lecture on International Trade and Economics." This year's guest is a distinguished macroeconomist whose
work
on international finance, debt crises exchange rate policy is world-renowned. Ken Rogoff is the Thomas D. Cabot Professor of Public Policy and professor of economics at Harvard University. He also served as Economic Counselor and Director of the Research Department at the International Monetary Fund from 2001 to 2003. During his tenure, he published a
highly publicized critique
of Joseph Stiglitz's
Globalization and its Discontents
(2003), in which he defended the IMF's role in responding to the East Asian Financial Crisis.
Before that, Rogoff also held professorships at Princeton, U.C. Berkeley, the University of Wisconsin-Madison and worked as an economist in the international finance division of the Board of Governors of the Federal Reserve. He received his Ph.D. from MIT in 1980, writing his dissertation on exchange rate volatility and expectations, after graduating from Yale with Honors in Economics.
A frequent commentator for print and radio media here and abroad, Rogoff has published a plethora of articles and books (many of the available
online
); his most recent book is
This Time is Different: Eight Centuries of Financial Folly
(September 2009). He also an avid chess player, having achieved the esteemed title of International Grandmaster, the highest title awarded to chess players in the world.