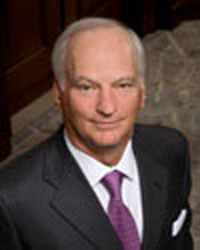 Robert Day School Distinguished Speaker Series
Lunch with a Leader: The Private Equity Industry
GEORGE ROBERTS '66 P'93
TUESDAY, APRIL 20, 2010
LUNCHEON 11:30 a.m., LECTURE 12:00 p.m.
George R. Roberts, a pioneer of the private equity industry, co-founded Kohlberg Kravis Roberts & Co. ("KKR") in 1976. For over thirty years, Mr. Roberts, along with KKR co-founder Henry Kravis, has led the firm in its growth into a leading global alternative asset manager with $47 billion in assets under management. Mr. Roberts participates in all of KKR's investment activities, and serves on the Investment and Portfolio Management Committees.

Prior to co-founding KKR, Mr. Roberts was in the Corporate Finance Department of Bear Stearns & Company from 1969 to 1976. During this time, he became a partner at age 29 and, along with Mr. Kravis and Jerome Kohlberg, pioneered the use of leverage in acquisitions.

After graduating from Culver Military Institute in 1962, Mr. Roberts earned a B.A. from Claremont McKenna College in 1966, and a J.D. from the University of California (Hastings) Law School in 1969. He has been a member of the board of directors of numerous public and private companies and he currently serves as a director or trustee of several cultural and educational institutions, including the San Francisco Symphony, Claremont McKenna College, and Culver Military Institute.

Mr. Roberts is founder and Chairman of the board of directors of REDF, a San Francisco non-profit organization. REDF uses the practices of venture philanthropy to create job opportunities through the support of social enterprises that help people gain the skills to help themselves.