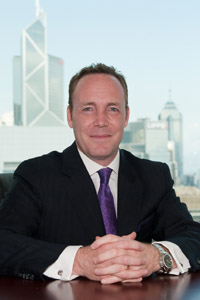 Lunch with a Leader: The Economic Outlook for Asia in the "New" Global Economic Environment
KIRBY DALEY
THURSDAY, SEPTEMBER 23, 2010
LUNCHEON 11:30 a.m.; LECTURE 12:00 p.m.
Kirby Daley is senior strategist with Newedge Prime Brokerage, Newedge Group (Hong Kong). As senior strategist and head of capital introductions (Asia) for Newedge Prime Brokerage, he services hedge fund managers and investors all over the Asia-Pacific region. He currently handles all of these duties out of the Newedge office in Hong Kong, where he has been since 2005.

After graduating from the University of Minnesota, Mr. Daley started his career as a trader for the special commodities division of Pillsbury Company in 1991. He made a move to Japan in 1993, where his work experience included broking Japanese commodity futures and dealing foreign exchange, before joining Newedge Group in Tokyo (formerly Finat Group and a joint venture between Societe Generale and Calyon) in 2001. At Newedge Group, Mr. Daley worked initially as a strategist in Tokyo and added the hedge fund capital introductions role in late 2002.

Mr. Daley is featured prominently in the media for his views on the global economy, markets, and politics, having had a regular Monday morning weekly spot on CNBC Asia (Asia Squawk Box) since early 2003, along with frequent appearances on CNN International, Bloomberg TV, Fox Business News, and the BBC.
During his presentation, Mr. Daley will discuss changes in the global economic environment and careers that might ensue in the coming years. This lecture is first in the Robert Day School Distinguished Speaker Series.