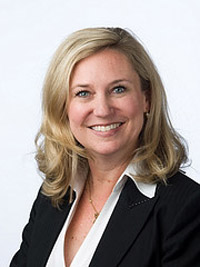 McKenna Scholar Speaker
WHITNEY BUSS TIDMARSH '88
MONDAY, SEPTEMBER 13, 2010
Whitney Tidmarsh '88 is Chief Marketing Officer for the Information Intelligence Group, a division of EMC. In this role, she is responsible for the division's global marketing strategy, branding and programs as well as all product marketing for the division's products and solutions, including EMC Documentum, EMC Captiva and EMC SourceOne. Other aspects of Whitney's leadership include social media and community marketing, competitive intelligence, field enablement, pricing and marketing communications.

Whitney joined EMC via the acquisition of Documentum in 2003. In 2004, she was appointed Vice President of Strategic Marketing for EMC Software Group which included solutions for content management, back-up, archiving, recovery and resource management. In this role, she heavily influenced the changing reputation of EMC from a hardware storage company to an information management company.

During the eight years she spent at Documentum, Whitney held a variety of technical and marketing management positions. From 2002-2004, she served as Vice President and General Manager of the electronic document management and Web content management businesses where she managed a worldwide team of engineers, product managers and product marketing managers responsible for nearly half of Documentum's license revenues. From 1999-2002, she was Vice President of Worldwide Product Marketing.