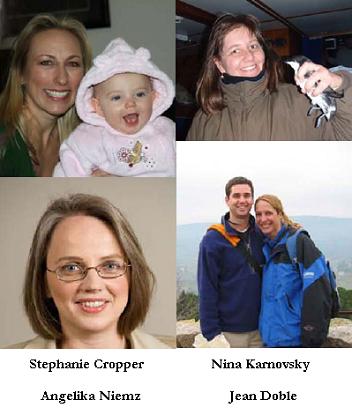 Women in Science & Medicine: Can You Achieve Work/Life Satisfaction?
STEPHANIE CROPPER
JEAN DOBLE
NINA KARNOVSKY
ANGELIKA NIEMZ
WEDNESDAY, SEPTEMBER 22, 2010
LUNCHEON 11:45 a.m.; LECTURE 12:15 p.m.
The Women and Leadership Series is a joint endeavor to support and promote student programs at Claremont McKenna College that will highlight issues faced by women in leadership in business, government and the professions, as well as draw attention to the centennial celebration of International Women's Day on March 8, 2011. Entities currently involved include the Kravis Leadership Institute, the Berger Institute for Work, Family, and Children, the Office of Development, the Robert Day School of Economics and Finace, the Marian Miner Cook Athenaeum, the Dean of Students Office, and the Claremont Graduate University.
The first event in this series is "Women in Science and Medicine: Can You Achieve Work/Life Satisfaction? A Panel Discussion" sponsored by the Berger Institute on Work, Family and Children, the Joint ScIence Department, and the 5 College Women in Science Club. Panel members: Angelika Niemz, Arnold and Mabel Beckman Professor, director of research, Keck Graduate Institute of Applied Life Sciences; co-author,
Specific versus Nonspecific Isothermal DNA Amplification through Thermophilic Polymerase and Nicking Enzyme Activities
(2008) and
Isothermal DNA Amplification with Gold Nanosphere-based Visual Colorimetric Readout for Herpes Simplex Virus Detection
(2007); Nina Karnovsky, Associate Professor of Biology, Pomona College; co-author,
The Impact and Importance of Production in Polynyas to Top-trophic Predators: Three Case Histories
(2007) and
Foraging Behavior of Little Auks in a Heterogeneous Environment
(2003); Jean Doble, research director, Amgen, Inc.; Stephanie Cropper, M.D.; obstetrician and gynecologist.
To view a more complete biography of these panelists, go to the
Berger Institute website
.