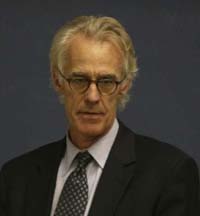 Whither North Korea?
STEPHAN HAGGARD
WEDNESDAY, SEPTEMBER 22, 2010
Current developments in North Korea have their origins in the collapse of the Soviet Union and the great famine of the mid-1990s. A brief window of reform in the early 2000s gradually closed with the onset of the second nuclear crisis. With succession looming and the North Korean economy floundering, the leadership still faces the same dilemmas that it did in the early post-Cold War period: how to undertake reform and denuclearization while maintaining political control over an increasingly militarized state de facto market economy.
The Keck Center for International and Strategic Studies and the Athenaeum are pleased to sponsor this lecture by distinguished scholar, Professor Stephan Haggard.

Stephan Haggard is the Lawrence and Sallye Krause Distinguished Professor at the Graduate School of International Relations and Pacific Studies (IR/PS) at the University of California, San Diego (UCSD). He has written widely in the fields of international and comparative political economy, with a particular emphasis on Asia. He is the author of Pathways from the Periphery: The Political Economy of Growth in the Newly Industrializing Countries (1990), The Political Economy of Democratic Transitions (1995, with Robert Kaufman); The Political Economy of the Asian Financial Crisis (2000); and Democracy, Development and Welfare States: Latin America, East Asia and Eastern Europe (2008).
Haggard's research on North Korea with Marcus Noland includes Famine in North Korea: Markets, Aid and Reform (2007, preface by Amartya Sen) and The North Korean Refugee Crisis: Human Rights and International Response (2006). Witness to Transformation: Refugee Insights into North Korea (forthcoming 2010) is based on two surveys of North Korean refugees. They are completing a third volume on the political economy of North Korea, including the nuclear crisis, tentatively called North Korea Opens.
Prof. Haggard is a member of the Council on Foreign Relations, a Visiting Fellow of the Institute of International Economics, and has been a visiting scholar at the World Bank and the OECD. He has testified before Congress on the Asian financial crisis and on food aid to North Korea. His commentary on North Korea has appeared in a number of major media outlets, including Newsweek, The International Herald Tribune and The Washington Post and he comments frequently for the Voice of America.