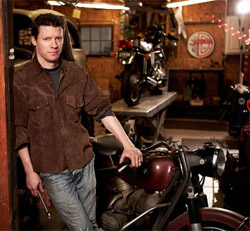 The Case for Working with Your Hands
MATTHEW CRAWFORD
MONDAY, SEPTEMBER 27, 2010
Mr. Crawford is principally concerned with the effect of work on the "soul," but he can't help noting that economic trends favor the humble tradesman. Globalization and information technology are fast undermining the job security of architects, accountants, radiologists, and anyone else whose work can be outsourced abroad or (using applications like TurboTax) performed by machines. But customers in rich countries can't do without the on-site services of skilled manual workers, who, thanks to the rarity of vocational training in public schools, are in the U.S. today enviably few. 'If you need a deck built, or your car fixed, the Chinese are no help,' Mr. Crawford observes. 'Because they are in China.'
—Francis X. Rocca, Wall Street Journal

Employment as both a philosopher and as a mechanic may not seem like the most logical combination, but for Matthew Crawford, it is quite natural. In addition to working at the University of Virginia and running a motorcycle repair business, he is the New York Times-bestselling author of Shop Class as Soulcraft: An Inquiry into the Value of Work (2009).

In Shop Class as Soulcraft, Crawford discusses the alienation felt by individuals working in cubicles, sitting in front of a computer and provides a solution: a return to an aesthetic that values manual labor and the trades. The joy of working with your hands provides a sense of self-reliance and authenticity that many feel that they lack.

Crawford's writings have been reviewed in Slate, the New York Times and the Wall Street Journal. He has been called a "locavore of work" and an advocate of a different and undervalued form of intelligence. They have also been praised as a solution to America's (wsj thing).

In his talk, Crawford will discuss, through the history of philosophy, how we are formed (and deformed) by our economic choices. He will illuminate the role of the psychology of consumerism and the modern workplace and turn an eye towards some of the less-known consequences of our culture's obsession with technology.

Matthew Crawford's visit to campus is jointly sponsored by the Athenaeum and the CMC Dean of the Faculty.