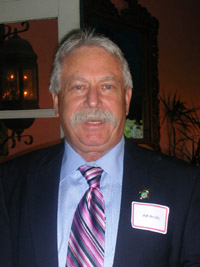 Mexican Revolutionary Culture: Indians, Anthropologists, Intellectuals, and Calendar Girls
WILLIAM BEEZLEY- CANCELLED
TUESDAY, SEPTEMBER 28, 2010
William Beezley, Professor of History at the University of Arizona, is a preeminent historian of late nineteenth and early twentieth century Mexico. In addition to teaching at Arizona, he is the Director of the Oaxaca Summer Institute in Modern Mexican History, a graduate program in history in Oaxaca, Mexico.
Beezley received his bachelor's degree from Chico State College in California in 1964. He went on to earn both his masters and his doctorate from the University of Nebraska in 1966 and 1969. He has given many lectures in both the United States and Latin America; in 2006 he received a U.S. State Department Grant through the Guadalajara Consulate to lecture at La Universidad de Colima.

Additionally, over the past three and a half decades, Beezley has been awarded numerous research grants, including the Mellon Grant from the Center for Latin American Studies at Tulane University from 1997-1998. In 2007, he received the Theo Crevanna Award for Distinguished Service in the Promotion of Binational Latin American Studies, presented by the Rocky Mountain Council for Latin American Studies, which is the world's oldest Latin American academic organization. Beezley has been a major force in the organization, and currently serves as Secretariat. He edits the prestigious Oxford History of Mexico, published this year in a second edition, and the widely read Latin American Silhouette series of Rowman and Littlefield. One of his books, Judas at the Jockey Club and Other Episodes of Porfirian Mexico (2004), chosen as a selection by the History Book Club, was described by the Journal of American Folklore as "A landmark study of Mexican cultural history."