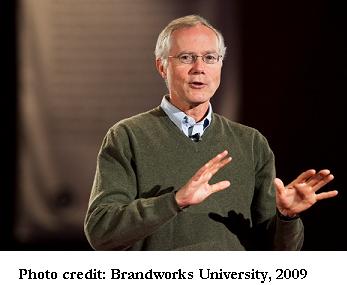 Robert Day School Distinguished Guest Speaker
Lunch with a Leader: Finance Software
SCOTT COOK P'11
MONDAY, OCTOBER 4, 2010
LUNCHeon 11:30 a.m.; LECTURE 12:00 p.m.
Cook's business career has taken him from Crisco to Quicken. He began as an assistant brand manager at Procter & Gamble assigned to the Crisco account, and later managed consulting assignments at Bain & Company, a corporate strategy consulting firm. In 1983, he created the revolutionary Quicken personal finance software that led to the founding of Intuit. Since the creation of Quicken, Intuit has grown with Cook's guidance to offer a wide array of desktop and online products and services that provide simple solutions to people's important problems. Flagship products include QuickBooks, the leading accounting software for small and medium-sized businesses, and TurboTax, the top-selling tax preparation software.

Today, Intuit is North America's leading payroll service supplier and is pioneering innovations in corporate workflow automation through QuickBase. The company is also breaking new ground in helping people simply manage their health care expenses through the Quicken Health Expense Tracker. And following the $1.3 billion acquisition of Digital Insight in 2007, Intuit began providing new ways for small banks and credit unions to offer online banking services to customers.
Cook's outside interests include efforts to transform medicine by accelerating medical research and improving patient care quality. He is a member of the boards of directors of eBay, Procter & Gamble, the Asia Foundation, the Harvard Business School Board of Visitors and the Intuit Scholarship Foundation. Since 1991 he has been a member of the Young Presidents Organization, the Young Presidents' Organization, a nonprofit group committed to developing leadership for young chief executives.
Raised in La Canada, California, a Los Angeles suburb, Cook earned an MBA from Harvard University and a bachelor's degree in economics and mathematics from the University of Southern California, where he was elected to Phi Beta Kappa.