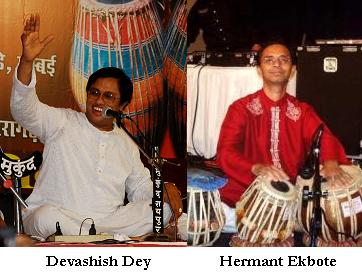 A Concert of Traditional Indian Music Celebrating Gandhi's Birthday
DEVASHISH DEY, vocal
HERMANT EKBOTE, tabla
MONDAY, OCTOBER 4, 2010
"Devashish has evolved a spirited and individual style into which he has skillfully grafted features from some maestros of today. These bring an element of novelty into his presentation. His voice production is open and modulated…His sense of enjoyment while singing conveys itself to the audience."
–The Times of India
Devashish Dey received his Sangeet Praveen, a musical degree equivalent to a master's, from Prayag Sangeet Samiti in Allahbad, India. His extensive and prolific studies of Indian music include classical vocal, light classical, and others. He has won several awards, including prizes in both the classical and light classical categories of the All India Radio Music Competition in 1985. He has performed all over India and in parts of Europe.
Tonight, Devashish Dey is accompanied by Shri Hermant Ekbote on percussion. Shri Hemant Ekbote is a leading exponent of the Indian Tabla drums, in the United States. In addition to performing at concerts with several highly accomplished artists, world-wide, he continues to offer tabla classes to several aspiring students at his residence in Southern California.Traditional Indian music is beautiful and transcendent; it is an honor to have such talented artists performing in commemoration of Mahatma Gandhi's birthday.