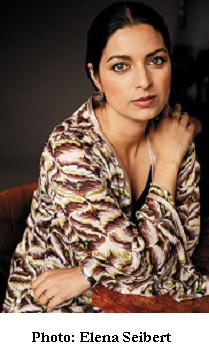 A Reading
JHUMPA LAHIRI
MONDAY, OCTOBER 11, 2010
Jhumpa Lahiri, a Pulitzer prize winning author, will be joining us to share some of her acclaimed work this evening. Though her writing generally focuses on Indian immigrants and their experiences living in new environments, Lahiri explains that "my impulse behind my writing is not to portray a particular cultural experience or population, but I try to make sense of the human condition."
Lahiri was born in London to Bengali Indian immigrants. When she was three, their family moved to Kingston, Rhode Island, but they made frequent visits to relatives in Calcutta, India. Lahiri earned her bachelor's degree from Barnard College, and received her master's degree in English, creative writing, and comparative studies in literature and the arts as well as a doctorate in Renaissance studies from Boston University.

Jhumpa Lahiri won the Pulitzer Prize for fiction in 2000 for her literary debut, Interpreter of Maladies (1999). It was the seventh collection of short stories to win the esteemed award, and as an international bestseller, it was translated into over thirty languages. Her first novel, The Namesake (2003), received numerous honors, including being selected by USA Today as one of the best books of the year in 2003. Her most recent book, Unaccustomed Earth (2008), received the 2008 Frank O'Connor International Short Story Award, which is the world's largest prize for a short story collection. One critic writes, "There is nothing accidental about her success; her plots are as elegantly constructed as a fine proof in mathematics." She also received the Guggenheim Fellowship in 2002.