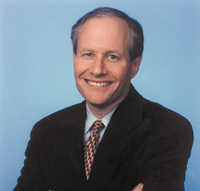 The Future of American Politics: Obama, the Tea Party, and the 2010 Elections
WILLIAM KRISTOL
WEDNESDAY, OCTOBER 13, 2010
The upcoming midterm elections are on everyone's minds these days, and for every three people you ask about them, you'll hear four opinions. We will probably only discover the electoral effects of "unknown quantities" like the Tea Party and ever-elusive young voters after the election. William Kristol, who has been studying, commentating on, and participating in politics for decades, will be offering his observations and predictions.

Almost two years ago, in November 2008, Barack Obama and the Democratic Party swept to a big victory. A year later, Democrats lost the governorships of New Jersey and Virginia, and shortly after that, Ted Kennedy's seat in Massachusetts. Now they're looking at a considerable setback this fall. What's going on in American politics? Why the volatility, and what does it imply for issues and candidates over the next few years? Kristol aims to answer these questions in his talk, titled "The Future of American Politics: Obama, the Tea Party, and the 2010 and 2012 Elections."

William Kristol is the founder and editor of The Weekly Standard and a well-known neoconservative commentator and author. Widely recognized as one of the nation's most insightful political analysts and commentators, he is a regular guest on television's top news programs. This is Kristol's eighth visit to the Athenaeum: he has discussed many momentous elections in the past two decades here, including the 1992 election, the 2000 election and the 2004 election. His predictions and words of advice have often come true: Kristol advocated McCain's selection of Sarah Palin in 2008, but he also warned Newt Gingrich not to overreach in 1994, an election year often compared to 2010.

Before starting The Weekly Standard in 1995, Kristol led the Project for the Republican Future, where he helped shape the strategy that produced the 1994 Republican congressional victory. Prior to that, he served as chief of staff to Vice President Dan Quayle during the Bush administration and to Secretary of Education William Bennett under President Reagan. Kristol earned his A.B. and Ph.D. from Harvard University.

In addition to his work as a commentator and journalist, Kristol has taught American politics and political philosophy at the University of Pennsylvania and at Harvard's Kennedy School of Government.

William Kristol's visit to Claremont is jointly sponsored by the Athenaeum and the Salvatori Center.