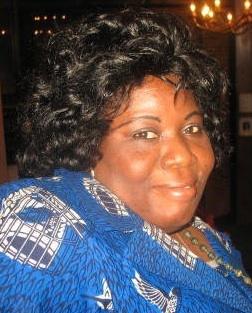 Giving Women Credit: Microfinance as a Tool for Effecting Change
GERTRUDE ANKRAH
THURSDAY, OCTOBER 21, 2010- Dinner Cancelled
New lecture date and time: Friday, October 22, 2010
Lunch 11:30 a.m.; Lecture 12:00 p.m.
In March 2003, Dana Dakin (Scripps '64) travelled to Ghana, West Africa to mark her 60th birthday and the beginning of what she hoped would become the "giving back" chapter of her life. Her goal was to establish a microfinance program for women. After establishing relationships with local people and returning to the United States to become more organized, Dakin's program, WomensTrust, made its first loan in November of that same year.
Since 2005, Gertrude Ankrah has served as Program Development Director of WomensTrust. Her responsibilities include maintenance of relationships for program growth and sustainability, including management of the WT staff and coordination of integrated programs and special projects. Ankrah was born and raised in Pokuase village, where WomensTrust is located, and her familiarity with the community helps facilitate connections between locals and the organization. Ankrah graduated from a local private high school, and went on to attend the Mars Business Secondary School in Accra, Ghana, where she earned a certificate in business administration. Over the following years, Ankrah enhanced her experience in both business and politics, and currently serves on the committee of the Microfinance and Small Loans Centre, the Ghana government program for microfinance.

Combined with the vision of Dana Dakin, Gertrude Ankrah's determination and passion have allowed WomensTrust to flourish and expand to include education and healthy living initiatives. Not only does Gertrude personify the management and leadership talent that is primed and waiting in Africa, she infuses WomensTrust with a unique energy that has distinguished the organization as a community supported vehicle of change.
The story of WomensTrust is moving and enlightening; the Athenaeum is very lucky to host the women behind such an inspirational organization. The Center for Human Rights Leadership is sponsoring the appearance of Gertrude Ankrah.