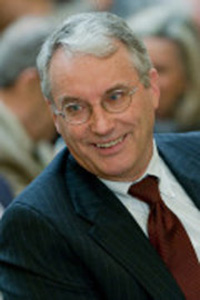 China on the World Stage
THOMAS FINGAR
MONDAY, OCTOBER 25, 2010
Within three decades China has risen from an impoverished and conflict-stricken society to a great power. As the world's second largest economy and a critical player in international security, China's conduct in world affairs directly affects global peace and prosperity. How is China behaving on the global stage? Is China becoming a responsible great power or acting selfishly and assertively as a traditional rising power intent on maximizing its influence? How is America responding to China's newfound status and influence?

Tom Fingar, a seasoned China watcher with extensive experience in the U.S. government and academia, will share with us his observations in his talk, "China on the World Stage" following dinner at the Marian Miner Cook Athenaeum.

Dr. Fingar is the Oksenberg/Rohlen Distinguished Fellow at the Freeman Spogli Institute for International Studies at Stanford University. He has served previously as Assistant Secretary of the State Department's Bureau of Intelligence and Research, Principal Deputy Assistant Secretary (2001-2003), Deputy Assistant Secretary for Analysis (1994-2000), Director of the Office of Analysis for East Asia and the Pacific (1989-1994), and Chief of the China Division (1986-1989). Between 1975 and 1986 he held a number of positions at Stanford University, including Senior Research Associate in the Center for International Security and Arms Control. Dr. Fingar is a graduate of Cornell University (A.B. in Government and History, 1968), and Stanford University (M.A., 1969 and Ph.D., 1977 both in Political Science).

Dr. Fingar's visit to CMC is sponsored by the Keck Center for International and Strategic Studies.