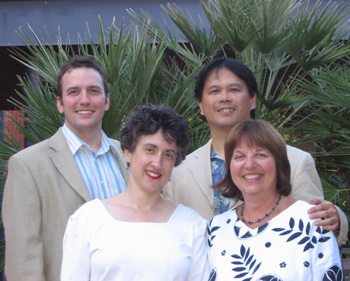 Celebrating Robert Schumann's 200th Birthday
GAYLE BLANKENBURG, piano
HAO HUANG, piano
RACHEL HUANG, violin
CHARLES KAMM, tenor
TUESDAY, OCTOBER 26, 2010
The Athenaeum is celebrating the 200th anniversary year of the birth of composer Robert Schumann with a concert of music by the 19th century master. Four members of the Scripps College Music Department will play two of Schumann's most treasured chamber works. The Sonata for Violin and Piano in A minor, opus 105, written in 1851, is one of the most impassioned violin sonatas in the repertoire. Dichterliebe (Poet's Love), op. 48, was written in 1840, Schumann's "year of song", and is celebrated as one of the greatest song cycles of the German Romantic era.
Pianist Gayle Blankenburg has performed extensively to great critical acclaim as a solo pianist, chamber musician, and vocal accompanist. She was a roster artist with Southwest Chamber Music from 1996 to 2003, with whom she regularly performed and recorded, and is currently a founding member of the LA-based ensemble "inauthentica." The Los Angeles Times has said of her playing, "Blankenburg played with elegant power and poise? Her crisp touch and light pedaling produced crystalline, pensive, haunting sequences? This is a gratefully idiomatic piece for a pianist with both power and a palette, requirements Blankenburg met easily." She is currently on the piano faculties of both Scripps College and Pomona College.
Pianist Dr. Hao Huang is a Professor of Music at Scripps College who has served as USIA Artistic Ambassador on several overseas tours to Europe, Africa, and the Middle East. He continues to give frequent international and domestic performances as a recitalist and concerto soloist. His scholarship includes the Article of the Year Award for 1995 in American Music Teacher (MTNA journal), and numerous published articles in refereed journals spanning piano pedagogy, general music studies, popular music, ethnomusicology, jazz, anthropology, American Studies and Humanities. His work has been recognized by the Chronicle of Higher Education, the Washington Post and National Public Radio's "Morning Edition".
Violinist Dr. Rachel Vetter Huang has performed as a concerto soloist with the Boston Pops, Concord Symphony Orchestra and others. She has performed in China, Austria, Hungary, Italy and other European countries and on radio broadcasts from WQXR-FM in New York, WGBH-FM in Boston and on South Carolina, North Carolina, Colorado and California public television and radio networks. Dr. Huang has garnered grants for excellence in performance and scholarship by both the National Endowment for the Arts and the National Endowment for the Humanities. She formerly taught as professor of violin at the University of North Carolina at Greensboro and currently serves as Adjunct Professor at Scripps College.
Tenor Dr. Charles Kamm is Associate Professor of Music at Scripps College and Director of Choirs for the Joint Music Program of Claremont McKenna, Harvey Mudd, Pitzer, and Scripps Colleges. As a concertizing tenor, he has performed in Austria, Hungary, Finland, Sweden, China, and the United States. His repertoire stretches from choral music of the renaissance, through Baroque and Classical oratorio, to German Romantic Lieder and art songs of the twentieth century. A former Fulbright recipient, he received his doctor of musical arts at Yale University.