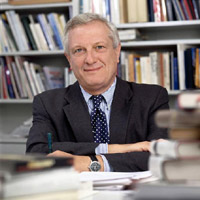 At the Cassandra Crossing
JOSEF JOFFE
THURSDAY, OCTOBER 28, 2010
LUNCH 11:45 a.m.; LECTURE 12:00 p.m.
Is the U.S. a superpower of yesterday? As the American economy struggles to regain its footing and Washington remains stuck in partisan paralysis, the rest of the world ponders whether Uncle Sam is in terminal decline. However, perception of America as a declining superpower is not the same thing as its actual decline. In fact, based on past experience, the demise of America as a superpower has been greatly exaggerated.

Josef Joffe, one of Europe's most eminent foreign policy thinkers, will rebut the theory of "American declinism" and provide an unconventional account of why America's resilience has been discounted while its frailties exaggerated – especially in times of economic difficulty and international uncertainties.

Josef Joffe, the Marc and Anita Abramowitz Fellow in International Relations at the Hoover Institution, is publisher-editor of the German weekly Die Zeit. His essays and reviews have appeared in the New York Review of Books, Times Literary Supplement, Commentary, New York Times Magazine, New Republic, Weekly Standard, Newsweek, Time, and Prospect (London). He is also a senior fellow at Stanford's Freeman-Spogli Institute for International Studies. In 1990–91, he taught at Harvard, where he remains affiliated with the Olin Institute for Strategic Studies. Raised in Berlin, he obtained his Ph.D. degree in government from Harvard.

Dr. Joffe's visit to CMC is sponsored by the Keck Center for International and Strategic Studies.