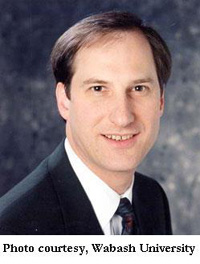 Making Financial Reform Work
CHARLES CALOMIRIS
MONDAY, NOVEMBER 1, 2010
LUNCH 11:30 a.m.; LECTURE 12:00 p.m.
Charles Calomiris is a William F. Podlich Distinguished Fellow at CMC and the Henry Kaufman Professor of Financial Institutions at Columbia Business School. He is also a research associate at the National Bureau of Economic Research, a member of the Shadow Financial Regulatory Committee and the Financial Economists Roundtable, and the coordinator of the "Bank Performance and the Economy" program at the Center for Financial Research at the Federal Deposit Insurance Corporation. Calomiris also codirected the American Enterprise Institute's Financial Deregulation project.

In his role as Podlich Fellow, Calomiris will be presenting a talk titled "Making Financial Reform Work." He is also team-teaching a course, "The History of Financial Crises," with Professor Gregory Hess.

His research spans several areas: from banking and corporate finance to financial history and monetary economics. Calomiris also served on the 2000 International Financial Institution Advisory Commission. Known as the Meltzer Commission, this congressionally mandated group recommended specific reforms of the International Monetary Fund, the World Bank, the regional development banks, and the World Trade Organization to the U.S. government.

It is a pleasure to have Charles Calomiris take part in the 2010-2011 William F. Podlich Distinguished Visitors Program. This program was generously endowed by CMC alumnus and trustee William F. Podlich '66, whose aim is to enrich the college intellectually by bringing preeminent figures in scholarship, business, and public affairs to campus for extended visits.