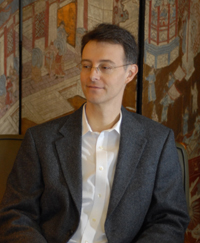 American Values and American Health Care
ALEX RAJCZI
WEDNESDAY, NOVEMBER 17, 2010
Alex Rajczi is the Debora and Kenneth Novack '67 Associate Professor of Ethics and Leadership and George R. Roberts Fellow in the Department of Philosophy here at CMC. Since joining the faculty in 2004, he has taught courses on a range of topics, including women's rights, ethics of war and peace, and bioethics.

In 1993, Rajczi graduated Summa Cum Laude from UCLA with a B.A. in Philosophy. He later earned his M.A. and Ph.D. from the same institution in 1994 and 2000. Rajczi specializes in moral and political philosophy. He has written about abstract ethical theory as well as concrete political issues such as poverty, war, and same-sex marriage. From 2002-2004 he was a fellow at the National Institutes of Health, and there he developed a lasting interest in medical ethics and health policy. He is currently writing a book on national health policy in the United States. Furthermore, he has published his work in journals such as American Philosophical Quarterly, The Journal of Law, Medicine, & Ethics, and Public Affairs Quarterly. Also, he is a member of the American Philosophical Society as well as Phi Beta Kappa.

Raczji has studied the philosophical implications of national health care for several years. In 2005, he delivered a talk on "The Ethics of National Health Care" at the University of California, Irvine. Additionally, he published "A Critique of the Innovation Argument Against a National Health Program" in Bioethics in 2007. His talk this evening will focus on the debate over health reform. In the first part of the talk, he will show that Americans are not as deeply divided about health reform as the media says. Instead, Americans of all ideologies share some basic goals for our health system. In the second part of the talk, Professor Rajczi will offer some suggestions about how we can reform the health system to better meet these goals. The result would be a national health system that all Americans could embrace.