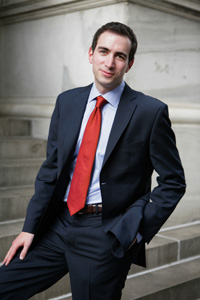 The Politics of Too Big to Fail
ANDREW ROSS SORKIN
TUESDAY, NOVEMBER 16, 2010
Andrew Ross Sorkin is a leading voice regarding Wall Street and corporate America. As The New York Times chief mergers and acquisitions reporter and columnist, his recent bestseller, Too Big To Fail: The Inside Story of How Wall Street and Washington Fought to Save the Financial System—and Themselves (2009), details the behind-the-scenes, moment-by-moment story of how the financial crisis developed into a global tsunami.

Sorkin began writing for The Times in 1995 while still in high school. He continued to write for the paper during his college days and while studying abroad in London, publishing 71 articles on media, business, and technology before he graduated from Cornell University. DealBook, which Sorkin created in 2001, began as one of the first financial news aggregation services on the Web. He developed it into an award-winning blog, providing exclusive interviews, original analysis, and breaking news about mergers and acquisitions, IPOs, private equity transactions, and venture capital deals.

Sorkin, who has appeared on NBC's Today Show and on PBS' Charlie Rose, is a frequent guest host of CNBC's Squawk Box. In 2004, he won a Gerald Loeb Award, the highest honor in business journalism, for breaking news. Sorkin also is the recipient of a Society of American Business Editors and Writers Award for breaking news in 2005 and 2006. In 2007, the World Economic Forum named him a Young Global Leader.

Andrew Ross Sorkin is a guest of the Res Publica Society of Claremont McKenna College.