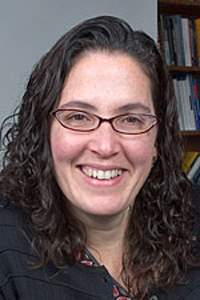 The Myth of the Resource Curse
PAULINE JONES LUONG
TUESDAY, NOVEMBER 23, 2010
It is conventional wisdom among highly-respected academics, international NGOs, international financial institutions and the popular media that mineral wealth in developing countries is not a blessing but a curse. Pauline Jones Luong will combat that myth in her talk titled "The Myth of the Resource Curse." The myth is particularly pervasive when it comes to oil wealth: countries rich in petroleum are considered to be doomed to suffer from poor economic performance, unbalanced growth, impoverished populations, weak states, and authoritarian regimes. At the root of this consensus, however, is a series of faulty assumptions and generalizations. Luong will argue that the underlying cause of the so-called "curse" is not oil wealth per se, but rather, who owns and controls this wealth.

Pauline Jones Luong is an Associate Professor in the Department of Political Science at Brown University. From 1998-2004, she was an Assistant Professor in the Department of Political Science at Yale University. She received her Ph.D. from Harvard University in 1998 and was a Harvard Academy Scholar from 1998-1999 and 2001-2002. Her primary research interests include: institutional origin and change; regime transition and state formation; and the political economy of market reform. Her empirical work focuses primarily on the former Soviet Union.
She has published articles in several leading academic and policy journals, including the American Political Science Review, Comparative Political Studies, Current History, Europe-Asia Studies, Foreign Affairs, Perspectives on Politics, Politics and Society, and Resources Policy. Her books include Institutional Change and Political Continuity in Post-Soviet Central Asia: Power, Perceptions, and Pacts (Cambridge 2002) and The Transformation of Central Asia: States and Societies from Soviet Rule to Independence (Cornell 2003). Her most recent book, Oil is Not a Curse: Ownership Structure and Institutions in Soviet Successor States was released in August 2010 from Cambridge University Press.

The lecture this evening is jointly sponsored by the Keck Center for International and Strategic Studies and the Athenaeum.