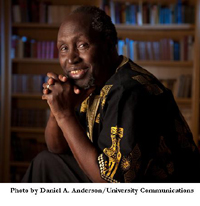 An Evening with the Author
NGUGI WA THIONG'O
MONDAY, NOVEMBER 29, 2010
Ngugi wa Thiong'o, a novelist, essayist, playwright, journalist, editor, and social activist, currently serves as Distinguished Professor of English and Comparative Literature and Director of the International Center for Writing and Translation at the University of California, Irvine.

Ngugi was born in Kenya, where he received his primary school education. He attended Makerere University College in Uganda, which, at the time, was a campus of London University. He then went on to study at the University of Leeds, Britain. Ngugi is the recipient of eight honorary doctorates, and is an honorary member of the American Academy of Arts and Letters. He has received many awards, including the 2001 Nonino International Prize for Literature.
The Kenya of his birth and youth was a British settler colony (1895-1963). As an adolescent, he lived through the Mau Mau War of Independence (1952-1962), the central historical episode in the making of modern Kenya and a major theme in his early works, which include Secret Lives (1969) and Petals of Blood (1977).
Sharply critical of the inequalities and injustices of Kenyan society, in 1977 Ngugi was arrested and imprisoned without charge at Kamiti Maxium Security Prison for work that was considered subversive by the Moi dictatorship. After Amnesty International named him a Prisoner of Conscience, an international campaign secured his release in December of the following year. Following his release, he continued his writing, and during a promotional trip to Britain, he learned that the Moi regime planned to assassinate him when he returned. Ngugi and his wife lived in exile for twenty-two years, but when they returned to Kenya in 2004, they were attacked by four hired gunmen and narrowly escaped with their lives.

Ngugi novels have been translated into over thirty languages. His most recent book, Dreams in a Time of War (2010) is a memoir of his childhood, documenting his experiences during the Kenyan struggle for independence.
This lecture by Distinguished Professor Ngugi wa Thiong'o is presented in collaboration with the Intercollegiate Department of Africana Studies (IDAS) of The Claremont Colleges.