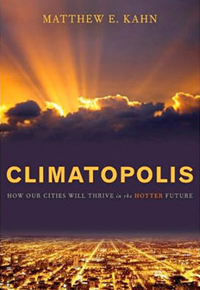 Climatopolis: How Our Cities Will Thrive in the Hotter Future
MATTHEW KAHN
THURSDAY, DECEMBER 2, 2010
Matthew Kahn is a professor in the Institute of the Environment, the Department of Public Policy, and the Department of Economics at the University of California at Los Angeles. He is also a research associate at the National Bureau of Economic Research. Furthermore, he is the co-editor of the Review of Environmental Economics and Policy as well as the associate editor of both the Journal of Urban Economics and of Regional Science and Urban Economics. Prior to teaching at UCLA, he taught at Colunbia University as well as at the Fletcher School of Law and Diplomacy at Tufts University. He has also been a visiting professor at Harvard and Stanford.

Kahn earned his B.A. in Economics from Hamilton College in 1988. He also earned a G.C. in Economic History from the London School of Economics (1987) before going on to earn his Ph.D. in Economics from the University of Chicago in 1993.
Kahn's research focuses on environmental, urban, real estate, and energy economics. He has published three books: Green Cities: Urban Growth and the Environment (2006), Heroes and Cowards: The Social Face of War (co-published with Dora L. Costa, 2009), and Climatopolis: How our Cities Will Thrive in the Hotter Future (2010). He has also published numerous papers in several prestigious economics journals. Kahn has received several awards, including a National Science Foundation Grant. He delivered the keynote lecture in Beijing at the Peking University/Lincoln Institute Conference on Green Cities on September 11, 2009. Kahn's talk tonight will certainly provide an interesting economic outlook on climate change, and how cities will adapt in the future to what he considers our extant and inevitably hotter global temperature.