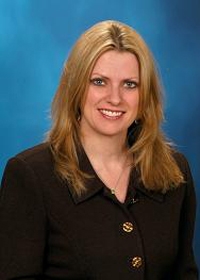 Lunch with a Leader: Commercial Litigation
CARLA CHRISTOFFERSON
FRIDAY, FEBRUARY 4, 2011
LUNCHEON 11:30 a.m.; LECTURE 12:00 p.m.
Carla Christofferson is the Managing Partner of O'Melveny's Los Angeles office and a member of the Business Trial and Litigation Practice. She is a member of The American Lawyer's 2004 "Litigation Department of the Year," and was recognized as a Southern California "Super Lawyer" in a survey conducted by Law & Politics Media Inc. and published in Los Angeles magazine (2005-2009). She was also named one of the Daily Journal's top 75 women litigators in California in 2008 and 2009.

Having obtained a J.D. from Yale University, Ms. Christofferson focuses on commercial civil litigation, including litigation involving energy, natural resources, environmental, unfair trade practices, accountant liability, and contract disputes. She has also served as a law clerk for the Honorable W. Matthew Byrne, Jr. with the U.S. District Court in the Central District of California.

In addition to her legal practice, Ms. Christofferson served as the Talent Development Partner for O'Melveny from 2004-2006, overseeing the development of training, mentoring, evaluation, and recruiting programs. She previously served as a member of O'Melveny's Office of the Chair, the Firm's five-attorney executive committee, and as the Firm's National Hiring Partner. She is currently a member of the Firm's Values Award Committee.

Ms. Christofferson is also active in the Los Angeles community as a member of the Board of Directors for the Los Angeles Library Foundation and the United Way Cabinet. She is also a co-owner of the Los Angeles WNBA franchise, the Los Angeles Sparks.