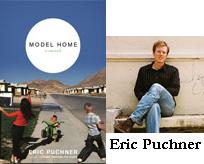 An Evening with the Author
ERIC PUCHNER
MONDAY, JANUARY 31, 2011
Eric Puchner, author of Model Home: A Novel (2010), is an assistant professor of literature here at CMC. Before joining our faculty in the fall of 2009, he lectured at the University of Arizona, San Francisco State University, and Stanford University. Puchner specializes in creative writing, and teaches a freshman humanities seminar on the comic voice.

Puchner attended Middlebury College, where he graduated Summa Cum Laude with a B.A. in English in 1993. He received Highest Departmental Honors and was elected to the college's chapter of the Phi Beta Kappa Society. In 1997, he completed his MFA in Creative Writing at the University of Arizona. In 2005, he published a collection of short stories called Music Through the Floor, which was a finalist for the New York Public Library's Young Lions Award. Puchner's work has appeared or is forthcoming in GQ, The Daily Beast, Zoetrope: All Story, Best New American Voices, and many more acclaimed journals and anthologies. He has received a Pushcart Prize and a National Endowment for the Arts grant.

Puchner's first novel, Model Home, has received much praise since its publication last year. Kevin O'Kelly of the Boston Globe writes, "Puchner is an extraordinarily talented writer. He's a master of mood and tone, able to make moments of pure hilarity follow heartbreak with the seamlessness of real life . . .every character is perfectly realized . . . the perfect novel for our time."

Tonight, Puchner will be reading selections from Model Home.