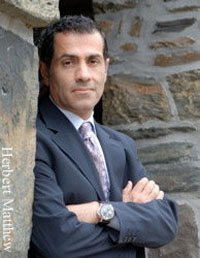 The Coming Revolution in the Muslim World: Economics vs. Extremism
VALI NASR
WEDNESDAY, FEBRUARY 9, 2011
Featured on the front page of the Wall Street Journal; quoted by Senator John Kerry on the floor of the U.S. Senate; and described as a "national resource" by Richard Haass, the President of the Council on Foreign Relations, Vali Nasr is one of America's leading experts on the Middle East and the Islamic world. Internationally renowned, he has influenced critical public debates and policy decisions on both sides of the Atlantic, and advised presidents, kings, prime ministers, and business leaders.

Nasr was Senior Advisor to U.S. Special Representative for Afghanistan and Pakistan, Ambassador Richard Holbrooke, and is currently Professor of International Politics at the world-renowned Fletcher School of Law and Diplomacy of Tufts University. He has previously served as an Adjunct Senior Fellow at the Council on Foreign Relations and Senior Fellow at the Belfar Center of the Kennedy school of Government at Harvard University.

Nasr is the author of The Rise of Islamic Capitalism: Why the New Muslim Middle Class is Key to Defeating Extremism (2010); The Shia Revival: How Conflicts Within Islam Will Shape the Future (2006); and co-author of Democracy in Iran: History and the Quest for Liberty (2009); as well as numerous articles in academic journals and encyclopedias. His works have been translated into Arabic, French, German, Hebrew, Spanish, Portuguese, Indonesian, Italian, Turkish, Persian, Chinese, Hindi, and Urdu. He is the recipient of numerous awards, and was a Carnegie Scholar for 2006.

Nasr has written for the New York Times, Foreign Affairs, The New Republic, Newsweek, Time, Christian Science Monitor, Foreign Policy, Los Angeles Times, the Wall Street Journal, and the Washington Post, and has provided frequent expert commentary to CNN, BBC, National Public Radio, Public Radio International, Newshour with Jim Lehrer, Frontline, ABC News, CBS News, NBC News, and has been a guest on the Charlie Rose Show, GPS with Fareed Zakaria, Meet the Press, Larry King Live, the Daily Show with Jon Stewart, The Colbert Report, and Real Time with Bill Maher. His interviews have appeared in leading media outlets in Asia, Europe, Latin America, and the Middle East.

Born in Tehran, Nasr now resides in Washington, D.C. with his wife and three children.

Vali Nasr's lecture at the Athenaeum is made possible through the generosity of CMC alumnus, L.J. Kutten '74, the Athenaeum, the Office of the President at CMC, the religous studies department, and the Arabic Studies program.