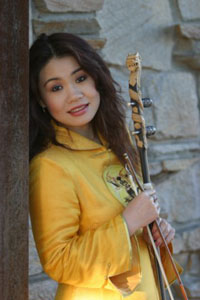 Celebrating the Lunar New Year: The Year of the Rabbit
KAREN HAN, erhu
CECELIA YU, pipa
THURSDAY, FEBRUARY 10, 2011
Karen Han is a world-famous musician and virtuoso on the Erhu, a two-stringed classical Chinese musical instrument similar to the violin and viola. Her performance at the Athenaeum is to celebrate the Lunar New Year — the Year of the Rabbit.

Cecelia Yu will accompany Ms. Han as well as do a guest solo performance on Pipa for the concert.

Ms. Han attended the Central Conservatory of Music in Beijing, where she was the youngest person to receive an M.A. with honors in the Performing Arts. She has performed for Chinese president Jiang Zemin, former UK Prime Minister Margaret Thatcher and other world leaders.

She has performed Erhu concertos with the Royal Philharmonic Orchestra, the Paris Opera Orchestra, the Pacific Orchestra and the Hollywood Bowl Orchestra, among other leading world orchestras. She has also performed for the soundtracks of over 100 films and television series, including The Hurt Locker (2008), Pirates of the Caribbean (2003-2007), Kung Fu Panda (2008) and Star Trek. She has published two solo albums and over thirty collaborations.

The Year of the Rabbit is, according to Chinese tradition, predicted to be a calm and consistent year, but lucky and creative as well.

Karen Han's husband is Paul Ottosson, an Oscar-winning sound supervisor and producer. He will be present at the performance – along with one of his Oscar awards! The meal will be a special menu for the Lunar New Year.