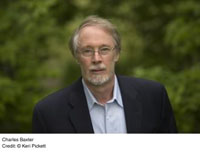 An Evening with the Author
CHARLES BAXTER
TUESDAY, FEBRUARY 15, 2011
The publication of Charles Baxter's Gryphon: New and Selected Stories (2011) is a major event in contemporary fiction. Bringing together thirty years of work, including seven previously uncollected stories, this dazzling book shows the development of one of the major practitioners of the short story form from his brilliant early stories to the consummate achievements of his most recent work. As Alice Munro wrote on reading his fiction, "Charles Baxter's stories have reminded me of how broad and deep and shining a story can be, and I am grateful."
With more than a dozen critically acclaimed publications to his credit, Charles Baxter has built a name for himself as one of the great voices of American literature. Baxter's best known work is The Feast of Love: A Novel (2001), a novel that was a finalist for the National Book Award in 2001 and adapted for the screen in 2007 in a film starring Morgan Freeman and Greg Kinnear. Baxter's most recent novel is The Soul Thief, published in 2008, a generically indefinable mixture of the comedy-of-manners and the metaphysical thriller, with a long penultimate sequence set in Southern California.
In addition to four other novels, Baxter is the author of four previous short story collections, three poetry collections and two books of essays, as well as numerous edited anthologies. He has received honors ranging from the Guggenheim Fellowship to the American Academy of Arts and Letters Award in Literature.

Also a beloved teacher who has inspired generations of young writers, Baxter taught for many years at Wayne State University and the University of Michigan before moving in 2003 to the University of Minnesota, where he currently holds the Edelstein-Keller professorship and teaches in the MFA program in creative writing.