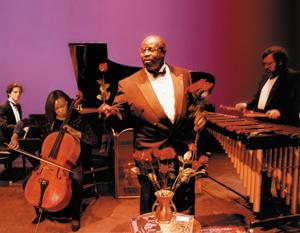 Of Ebony Embers: Vignettes of the Harlem Renaissance
THE CORE ENSEMBLE
CHRIS WHITE, actor
MICHAEL PAROLA, percussion
HSIAO-LING, piano
TAHIRAH WHITTINGTON, cello
THURSDAY, FEBRUARY 17, 2011
Of Ebony Embers is a music theatre work featuring a solo actor and chamber music trio. This piece explores the life and times of African Americans who helped shape the Harlem Renaissance. Of Ebony Embers connects the audience to the lives and works of three iconic poets – Langston Hughes, Countee Cullen, and Claude McKay – as seen through the eyes of muralist Aaron Douglass. Music in the show ranges from jazz greats Duke Ellington, Jelly Roll Morton, Billy Strayhorn, Thelonius Monk, and Charles Mingus to concert music composers Jeffrey Mumford and George Walker.

Tonight we are joined by actor, Chris White and the Core Ensemble – percussionist Michael Parola, pianist Hsiao-Ling, and cellist Tahirah Whittington.

The Core Ensemble, formed in 1993, has travelled throughout the United States and across the world. Broadening the definition of chamber music, the ensemble has been the catalyst in the creation of several chamber music theatre works weaving narrative and theatre into the chamber music experience. The Boston Globe described the Core as "often formidable, always intelligent, ultimately compelling."

This performance promises to be a fascinating and unique glimpse of the Harlem Renaissance through musical theatre.