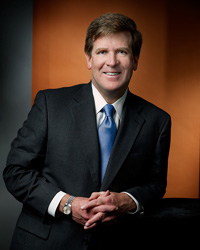 Powering America: The Big Technological, Cost, and Environmental Issues Confronting Electric Power in the Future
ROBERT WALTERS P'13
MONDAY, FEBRUARY 21, 2011
Rob Walters currently serves as Executive Vice President and General Counsel of Energy Future Holdings, one of the nation's largest electric generation, transmission, and distribution companies. In that role, he focuses on a wide array of state and federal policy and legal issues implicated in the electric power sector, including environmental, financial, and regulatory issues.

Before joining Energy Future Holdings in 2008, Walters was a senior partner in the Dallas office of Vinson & Elkins, where he engaged in a business litigation and antitrust practice. Walters also served as managing partner of the Dallas office and on the firm's executive committee.

Walters is highly esteemed in his accomplishments as a legal professional. He has served on the Council of the Antitrust Section of the American Bar Association and has served as Chair of its Publications Committee and Vice-Chair of its Fuels and Energy and Regulated Industries Committee, where he edited the ABA Antitrust Section Energy Law Handbook. Additionally, Walters has served as an adjunct professor of trial advocacy at Southern Methodist University School of Law.

Walters received his undergraduate degree at the University of Texas at Austin where he graduated summa cum laude from the Plan II Interdisciplinary Honors Program. He received his Juris Doctorate from the University Texas School of Law where he graduated cum laude and served on The Texas Law Review.