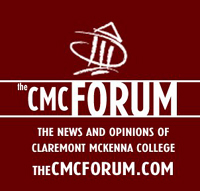 CMC Forum Idea Night at the Ath: Everything You Learned in Finance Class is Bull S%$@
KEVIN BURKE '11
CMC Forum Idea Night at the Ath: Rethinking Defense Resources- A More Efficient Allocation
JESSE BLUMENTHAL '11
CMC Forum Idea Night at the Ath: Tailoring- Past, Present, and Future
CONNOR BARCLAY '13
CMC Forum Idea Night at the Ath: The J-Term
ZACHARY ROBIN '13
THURSDAY, MARCH 3, 2011
Last year's "Idea Night" saw a number of Athenaeum firsts: a marijuana-inspired theory on a robot utopia, an enormous photo of a presenter's biceps, even a reenactment of a Roman execution. Luckily for you, the Forum has somehow convinced the staff of the Athenaeum to let it happen again. Thus, the Forum is proud to announce that it is now accepting applications for the opportunity to compete for a yet to be announced prize.
If you don't know what Idea Night is, it could be described as an event somewhere between a thesis-defense with a shot clock and a start-up pitch with a gourmet meal and wine for those of an "appropriate age".

Students are invited to submit papers, projects, or original research for the enjoyment of the CMC community online at CMCForum.com. Participants and their topics will be selected by a committee of student representatives for uniqueness, interest, and quality. We are looking for interesting arguments on any topic politics, culture, CMC, etc and although the content will vary greatly, the form will remain constant: each participant will have 10 minutes, a projector, and a podium.

What would you change about CMC? How can we solve the job crisis? How are you going to make your first billion? Why is Katy Perry the greatest musician to ever live? Why should we fuel our cars with Four Loko? How will Sarah Palin revolutionize politics/wolf hunting from helicopters?

Presentation skills will be valued equally alongside content. At the end of the event, the audience will be asked to rank the speakers on their interest and persuasiveness, and while everyone will get a token of our appreciation, the winner will be awarded a special prize.