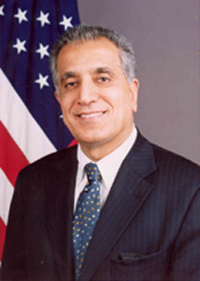 U.S. Foreign Policy: The Future of Afghanistan and Its Neighbors
ZALMAY KHALILIZAD P'05 P'13
TUESDAY, FEBRUARY 22, 2011
Dr. Zalmay Khalilzad served as U.S. Permanent Representative to the United Nations from 2007 to 2009. Prior to that position, he spent more than two years in Baghdad as U.S. Ambassador to Iraq. He previously served as U.S. Ambassador to Afghanistan, special presidential envoy to Afghanistan, and special presidential envoy and ambassador at large for Free Iraqis. Between 2001 and 2003, Khalilzad held a series of high-level positions at the National Security Council and the White House. He is the recipient of three Distinguished Public Service Medals, one each from three consecutive secretaries of defense.

Currently, Khalilzad is president and C.E.O. of Khalilzad Associates LLC, an international advisory firm. He also serves as a counselor at the Center for Strategic International Studies and sits on the boards of the National Endowment for Democracy, America Abroad Media, the RAND Corporation's Middle East Studies Center, the American University of Iraq in Suleymania, and the American University of Afghanistan. Khalilzad earned his bachelor's and master's degrees from the American University of Beirut, Lebanon, as well as a Ph.D. from the University of Chicago.

The Pacesetters Fellowship Program is the culmination of the hard work and dedication of alumni from the College's first three graduating classes of 1948, 1949, and 1950—the Pacesetters. This program attracts distinguished leaders in business, academia, and public affairs to Claremont McKenna College for one-on-one interactions with students. Khalilzad is the twelfth Pacesetters Fellow.