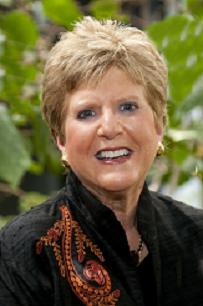 Women and Leadership: See Jane Lead
LOIS FRANKEL
FRIDAY, FEBRUARY 25, 2011
LUNCHEON 11:30 a.m.; LECTURE 12:00 p.m.
Dr. Lois Frankel, President of Corporate Coaching International, a Pasadena, California consulting firm, literally wrote the book on coaching people to succeed in businesses large and small around the globe. Her books Nice Girls Don't Get The Corner Office: 101 Unconscious Mistakes Women Make That Sabotage Their Careers (2004) and Nice Girls Don't Get Rich: 75 Avoidable Mistakes Women Make with Money (2005) are international bestsellers translated into over twenty-five languages worldwide. Stop Sabotaging Your Career: 8 Proven Strategies to Succeed - in Spite of Yourself (2007), a book based on her experiences as a pioneer in the field of business coaching working with everyone from CEOs to entry-level professionals, is a must-read for both men and women. And See Jane Lead: 99 Ways for Women to Take Charge at Work (2007) is a virtual road map for any woman who wants to take charge at work. Nice Girls Just Don't Get It: 99 Ways to Win the Respect You Deserve, the Success You've Earned, and the Life You Want, her next book co-authored with Carol Frohlinger, will be published in April, 2011 by Broadway Books.

Sought-after as a public speaker for her witty, warm and practical presentations that simultaneously engage, educate and entertain, Dr. Frankel is among the top names of international speakers. She has appeared on The Today Show, Larry King Live, CNN, and Fox News and been featured in USA Today, People magazine, and The Wall Street Journal. ABC television purchased the rights to Corner Office for a comedy series.

Dr. Frankel is the founder of two non-profit organizations, MOSTE: Motivating Our Students Through Experience and Bloom Again Foundation. She has been honored with Maybelline's Women Who Empower Through Education award, The Los Angeles County Commission for Women's Woman of the Year award, and a Presidential Medal from her undergraduate alma mater, the State University of New York at Oswego. In addition to her doctorate earned from the University of Southern California, she was awarded an honorary Doctor of Humane Letters from Phillips Graduate Institute.

Her talk, focused on her most recent book See Jane Lead, will be the keynote presentation for the Women and Leadership Workshop occurring earlier in the morning. The workshop and keynote are sponsored by the Kravis Leadership Institute, Berger Institute for Work, Family and Children and Robert Day School of Economics and Finance as part of the 2011 Women and Leadership Series. For more information on this series, please see http://www.claremontmckenna.edu/kli/programs/womenleadership.php. To register for the workshop, visit http://www.surveymonkey.com/s/WLWorkshop2011.