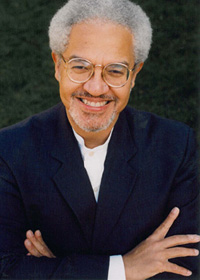 Malcolm X: A Life of Reinvention
MANNING MARABLE
MONDAY, FEBRUARY 28, 2011
Malcolm X today has iconic status in the pantheon of multicultural American heroes for several reasons. Malcolm's greatest strength was his ability to reinvent himself in order to function and even thrive in a wide variety of contexts. He presented a narrative of suffering and resistance that captured the imaginations of black people throughout the world. Behind that narrative was a revolutionary vision. He criticized black middle class leaders, for example, for failing to articulate the anger and frustrations of the ghetto. He changed the discourse of race internationally as well, by arguing that the United Nations, not the U.S. Congress or the White House, had to be the central forum for black politics. He drew parallels between the struggles against racism in Mississippi, and the racism of South African apartheid and colonialism in Africa. Malcolm envisioned a modern version of Pan-Africanism, based on a politics of global antiracism. Finally, Malcolm also represents the most important bridge between the American people and more than one billion Muslims throughout the world.

Having either written or edited nearly 20 books and scholarly anthologies, Dr. Manning Marable is one of the most influential and widely read intellectuals in the United States. Dr. Marable's books and anthologies include: The Great Wells of Democracy: The Meaning of Race in American Life (2003); Freedom on My Mind: The Columbia Documentary History of the African American Experience (2003); Freedom: A Photographic History of the African American Struggle (2005); Let Nobody Turn Us Around: Voices of Resistance, Reform, and Renewal: An African-American Anthology (1999); and, most recently, 2011's much-anticipated Malcolm X: A Life of Reinvention, scheduled to be released April 4.

Marable is the M. Moran Weston and Black Alumni Council Professor of African-American Studies and professor of history and public affairs at Columbia University. At Columbia University, he was the founding director of Institute for Research in African-American Studies. Since 2002, he has directed Columbia's Center for Contemporary Black History. He received his Ph.D. from the University of Maryland in 1976 and has previously taught at Cornell University, Fisk University, Colgate University, Ohio State University and the University of Colorado at Boulder.
Widely respected for his insight on the politics of race in America, Dr. Marable also champions the struggles of racial minorities, women, lesbian, gay, labor and social justice groups. His richly detailed yet powerful presentations generate interest and greater understanding about black history and America's racial dilemma.