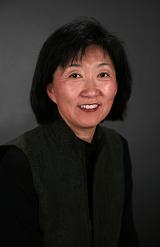 Time is of the Essence - Women and Change
ANGELA OH
TUESDAY, MARCH 8, 2011
Angela Oh is a a Los Angeles-based civil rights advocate, lawyer and the director of the Western Justice Center Foundation, which promotes non-violent methods of conflict resolution. She also was widely viewed as a spokesperson for Asian-Americans in the aftermath of the 1992 Los Angeles riots.

In the late 1990s, Oh served as a member of President Bill Clinton's President's Initiative on Race, where she served as part of a seven-member advisory board discussing the effects of race, racism and racial differences on the United States. She has also focused on discrimination, harassment and other civil rights issues in her legal career.

Her additional public service includes serving as the Chair of Senator Barbara Boxer's Federal Judicial Nominations Committee for two years, as a Lawyer Delegate to the Ninth Circuit Judicial Conference, and as a member of the Federal Magistrate Judge Selection Panel in the Central District of California. She currently serves on the ABA Commission on Hispanic Legal Rights and in 2011 will be co-chair of the Multi-cultural Bar Alliance, an organization that represents more than twenty bar organizations in southern California.

Oh received her B.A. and M.P.H. from the University of California, Los Angeles and her J.D. from King Hall at the University of California, Davis. She is also an ordained Zen Buddhist priest in the Rinzai Sect. She has taught at UCLA's School of Law, UCLA's Asian American Studies Department, U.C. Irvine's School of Social Sciences and Political Science and the University of Southern California's Unruh Institute of Politics.

Angela Oh's return visit to CMC is jointly sponsored by the Kravis Leadership Institute and the Athenaeum.