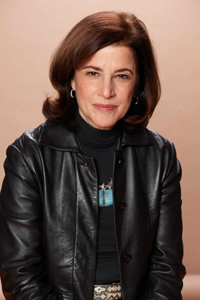 Mind in the Making
ELLEN GALINSKY
MONDAY, MARCH 21, 2011
Ellen Galinsky helped establish the field of work and family life at Bank Street College of Education, where she was on the faculty for twenty-five years. She has written more than forty books and over 100 articles in academic journals, books and magazines.

Galinsky is the President and Co-Founder of Families and Work Institute (FWI), where she co-directs the National Study of the Changing Workforce, the most comprehensive nationally representative study of the U.S. workforce — updated every five years and originally conducted by the U.S. Department of Labor in the 1977. She also co-directs When Work Works, a project on workplace flexibility and effectiveness, and has conducted a nationally representative study that has tracked trends in employment benefits, policies and practices since 1998.

At FWI, Ms. Galinsky is also directing the national Mind in the Making learning campaign which includes her new book, Mind in the Making: The Seven Essential Life Skills Every Child Needs (2010), and Vook (video book), learning modules for early childhood teachers, learning modules and online videos for families, a DVD of cutting-edge child development research, community mobilization efforts and major media partnerships. Mind in the Making has had more than 150 million media impressions since its publication.

A leading authority on work family issues, Ms. Galinsky presented at the 2000 White House Conference on Teenagers and the 1997 White House Conference on Child Care. She planned and participated at the March 2010 White House Forum on Workplace. She has also served as the elected President of the National Association for the Education of Young Children, the largest professional group of early childhood educators.

Galinsky is the recipient of numerous awards, including the 2004 Distinguished Achievement Award from Vassar College and the 2005 Outstanding Volunteer and Professional Achievement Award from the National Cathedral School. A popular keynote speaker, she appears regularly at national conferences, on television and in the media, including the CBS Evening News with Katie Couric, World News Tonight, and Oprah.

Galinsky earned her B.A. in Child Study from Vassar and went on to complete a Master of Science degree in Child Development/Education from Bank Street College of Education.

Ellen Galinsky's previous lecture at the Athenaeum was in April, 2000, as a guest of the newly established Berger Institute for Work, Family, and Children. It is a privilege to welcome her back to Claremont McKenna College.