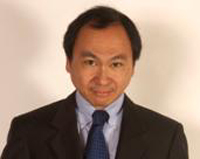 The Government in Asia, Then and Now
FRANCIS FUKUYAMA
WEDNESDAY, APRIL 6, 2011
What makes Asia's political systems, especially those in the most important Asian countries such as China and India, distinct from the rest of the world? How did their political systems evolve over the centuries? Are there crucial differences in the way government is empowered and legitimized in these countries? Is Asia's dramatic rise a product of the effectiveness of its political systems? Does Asia's economic success today constitute a challenge to the Western liberal political order?
Dr. Francis Fukuyama, author of a new monumental study of the origins of government in the world, will attempt to address these critical questions in his lecture at the Athenaeum on April 6, 2011. He will share his insights into the evolution of Asia's political systems over the years and explore how Asia's political development will affect the hitherto unchallenged supremacy of the Western liberal order.
Francis Fukuyama is senior fellow at the Foreign Policy Institute at the Paul H. Nitze School of Advanced International Studies (SAIS) of
Johns Hopkins University
. As of July 1, 2010, he is the Olivier Nomellini Senior Fellow at the Freeman Spogli Institute for International Studies at Stanford University. Dr. Fukuyama is the former director of SAIS's
International Development Program
. He is also chairman of the editorial board of
The American Interest
. Dr. Fukuyama has written widely on issues relating to questions concerning political and economic development.
He received his B.A. from Cornell University in classics, and his Ph.D. from Harvard in Political Science. He was a member of the Political Science Department of the
RAND Corporation
from 1979-1980, then again from 1983-89, and from 1995-96. In 1981-82 and in 1989 he was a member of the Policy Planning Staff of the U.S. Department of State, the first time as a regular member specializing in Middle East affairs, and then as Deputy Director for European political-military affairs. In 1981-82 he was also a member of the U.S. delegation to the Egyptian-Israeli talks on Palestinian autonomy. From 1996-2000 he was Omer L. and Nancy Hirst Professor of Public Policy at the
School of Public Policy
at
George Mason University
.
Dr. Fukuyama's visit to CMC is sponsored by the Keck Center for International and Strategic Studies.