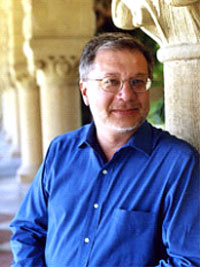 Prayer and Possession: Stories of Devotion in a Newly Discovered Book of Hours
SETH LERER
TUESDAY, MAY 3, 2011
LECTURE 6:45 P.M. Parents Dining Room
Seth Lerer, Distinguished Professor of Literature and Dean of Arts and Humanities at UCSD, is the author of several books on Medieval and Renaissance literature, including
Chaucer and His Readers: Imagining the Author in Late-Medieval England
(1993), and
Inventing English: A Portable History of the Language
(2007). His most recent book,
Children's Literature: A Reader's History from Aesop to Harry Potter
(2008), won the 2009 National Book Critics Circle Award and the 2010 Truman Capote Award for Literary Criticism. Professor Lerer's talk explores the medieval equivalent of a best-seller. Found in the San Diego Public Library, this book offers a unique window into the life of an aristocratic family with ties to Anne Boleyn, the second wife of Henry VIII.
Parents Dining Room seating is limited, and on a first-come basis.