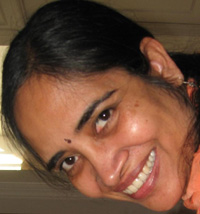 Department of Religious Studies Special Event
Modern South Asian Tamil Poetry
Writing the Limits: A Poetry Reading
PERUNDEVI SRINIVASAN
WEDNESDAY, MAY 4, 2011
LUNCHEON 11:30 a.m.; LECTURE 12:00 p.m.
Parents Dining Room
Perundevi Srinivasan is a visiting Assistant Professor in Religious Studies at Claremont McKenna
College. She received her Ph.D in Human Sciences from George Washington University in 2009 and
was a postdoctoral associate with the Rutgers Center for Historical Analysis in 2009-2010. Professor
Srinivasan was a recipient of a research fellowship from the American Institute of Indian Studies.
She was awarded research grants from M.S. Swaminathan Research Foundation in Chennai, India for
her field research on the sexuality of male actors performing female roles in Tamil theater. She was
also awarded research grants by L & L Dallapiccola Foundation of Scotland to pursue her research
on the performance aspect in goddess worship in South India. Dr. Srinivasan has published three
poetry collections and several articles and translations in Tamil. Her poems have been included in the
Penguin anthology of modern Tamil poetry, which has been recently published. She will begin full
time teaching at the Department of Religious Studies, Siena College in Fall 2011.