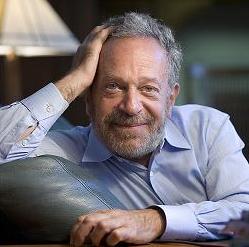 Aftershock: The Next Economy and America's Future
ROBERT REICH
WEDNESDAY, APRIL 13, 2011
Labor policy and America's labor unions are in the news once again. Why are we having such difficulty emerging from the Great Recession? Why is unemployment still so high? Why are wages going nowhere? And what, if anything, does all this have to do with politics leading up to the 2012 election?

Robert B. Reich is Chancellor's Professor of Public Policy at the University of California at Berkeley, and has served under three presidents, including Secretary of Labor under Bill Clinton. He is the author of thirteen books, including The Work of Nations: Preparing Ourselves for 21st Century Capitalism (1991), Locked in the Cabinet (1997), and Supercapitalism: The Transformation of Business, Democracy, and Everyday Life (2008). His most recent book, Aftershock: The Next Economy and America's Future (2010), discusses the causes of the recent economic meltdown and what deep, structural changes will be necessary to rectify America's economy.

Reich has previously taught at Harvard and at Brandeis. He is a co-founder of The American Prospect and the chairman of Common Cause, a non-profit "citizens' lobby." His blog — robertreich.org — is among the most popular sources of political and economic analysis. In 2002, Reich ran for the Democratic nomination for Governor of Massachusetts, finishing with 25% of the vote.

Reich has appeared numerous times on "Hardball" with Chris Matthews, "Countdown" with Keith Olbermann, "This Week" with George Stephanopoulos, CNBC's "Kudlow & Company" and Comedy Central's "Colbert Report". He is a weekly contributor to American Public Media's "Marketplace."

Robert Reich attended Dartmouth College and Yale Law School, as well as Oxford University on a Rhodes Scholarship. His visit to CMC and Athenaeum lecture is part of the ongoing series, McKenna Lectures on International Trade and Economics.