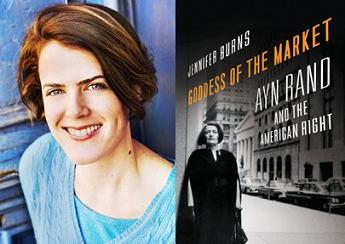 Godless Capitalism: Ayn Rand, Faith, and Politics
JENNIFER BURNS
THURSDAY, APRIL 14, 2011
Libertarian political ideologies have become ever more mainstream, especially after the Tea Party's success in the 2010 elections. Jennifer Burns is the author of Goddess of the Market: Ayn Rand and the American Right (Oxford University Press 2009), an intellectual biography of the controversial novelist and philosopher who is the wellspring of many modern libertarian ideas. Based on exclusive access to Rand's personal papers, Goddess of the Market is the only book to draw upon Rand's unedited letters and journals. It has been favorably reviewed by numerous publications including the New York Times, Washington Post, Time, Newsweek, The Economist, and the New Yorker.

Professor Burns is an Assistant Professor of History at the University of Virginia, where she teaches courses on American political, cultural, and intellectual history. She graduated from Harvard University magna cum laude majoring in History, and received her Masters and Ph.D. in History from the University of California at Berkeley.

A popular guest on radio and television programs, Professor Burns has been interviewed on The Daily Show with Jon Stewart, C-Span's Book TV, NPR's Weekend America, and Here & Now. She has also written articles for Harvard Magazine, Foreign Policy, the Christian Science Monitor, and several academic journals. In 2010, she was honored as a Distinguished Lecturer by the Organization of American Historians.

Professor Burns' visit to campus is jointly sponsored by the Salvatori Center, the department of history, and the Athenaeum.