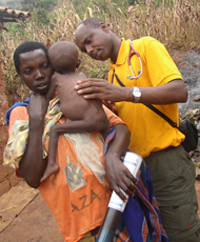 Welcome to the Class of 2015
Where There is Health; There is Hope
DEOGRATIAS NIYIZONKIZA
THURSDAY, SEPTEMBER 8, 2011
The story of Deogratias Niyizonkiza can be found in Strength in What Remains (2009), the critically acclaimed book by Pulitzer Prize-winning author Tracy Kidder, and the reading book for the CMC Class of 2015.

After surviving a massacre at the Burundian hospital where he was a third-year medical school intern, Deogratias Niyizonkiza "Deo" fled to New York where he arrived in 1994, penniless and without one word of English. Despite the hurdles -- low-paying work as a grocery store delivery boy, illness and homelessness -- with help from new friends he eventually enrolled in Columbia University where he studied biochemistry and philosophy.

After graduating from Columbia, Deo entered Harvard University's School of Public Health, where he met and worked with Dr. Paul Farmer, co-founder of Partners In Health (PIH). Deo later took a hiatus from Dartmouth Medical School to found Village Health Works (www.villagehealthworks.org), a Burundi-based organization founded on the humane principle that all people, including those most impoverished, deserve access to quality healthcare in a dignified environment. Village Health Works' mission is to create healthy, self-sufficient populations by providing excellent healthcare while addressing the root causes of illness and disease. Since opening its clinic doors in December 2007, the clinic in rural Burundi has seen more than 55,000 individual patients, the majority of whom are women and their children.

We have built a fully-functioning health center complex, which includes an in-patient, outpatient and malnutrition ward (the only center with capacity to treat malnutrition in Southern Burundi); community center; residence; solar farm; and agriculture & food security demonstration and training gardens. Our staff is entirely Burundian, except for our Haitian medical director and includes 50 trained community health workers. We are not just building a clinic, Deo says. We are building peace.

Members of the Freshmen Class are automatically signed up for this dinner, so please contact the Athenaeum (ext. 18244) to cancel if you are unable to attend. Overflow seating will be provided in McKenna Auditorium. Deogratias Niyizonkiza's visit to campus is sponsored by the office of the President, the Dean of Students, and the Athenaeum.