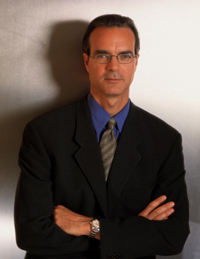 Leadership and Ethics
JAMES STEWART
WEDNESDAY, SEPTEMBER 14, 2011
In his novels and his current work for
The New York Times
, Pulitzer Prize winner James B. Stewart combines the skills of an investigative reporter with the style and sensibility of a novelist examining events in finance, law and politics that shape American society. Stewart, a graduate of Harvard Law School, writes "Common Sense," a weekly business column in which he shares his highly regarded insights into business and investing trends. Before his work with the
Times
, Stewart was a founding editor of
SmartMoney
and a columnist with the
Wall Street Journal
. Stewart has also written many pieces for
The New Yorker
, including his front-page story, "Eight Days: The Battle to Save the American Financial System."
Stewart has written many bestselling books, including DisneyWar: The Battle for the Magic Kingdom (2006), Blood Sport: The President and His Adversaries (1997), Blind Eye: The Terrifying Story of a Doctor Who Got Away with Murder (2000), and Den of Thieves (1992). He is in California for the San Fransisco opening of the opera based on his book, Heart of a Soldier (2003), which TIME magazine honored as the best book about 9/11. Stewart's most recent book, Tangled Webs: How False Statements are Undermining America: From Martha Stewart to Bernie Madoff was released in April 2011 and examines, through the cases of some of the country's highest-profile perjurers, how this epidemic in the economic and financial spheres corrodes society's trust and public opinion. His talk on Leadership and Ethics promises to be similarly interesting and timely.
Stewart's visit to the Athenaeum is co-sponsored by the Kravis Leadership Institute, the Robert Day School of Economics and Finance, the Lowe Institute of Political Economy, and the Athenaeum.