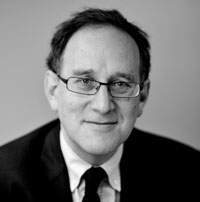 Literary Lies about Jews
ANTHONY JULIUS
MONDAY, SEPTEMBER 19, 2011
Anthony Julius is a prominent litigator and expert in media law and defamation and a leading thinker and activist in fighting anti-Semitism in academia, the law, and public discourse. While perhaps best known to the masses as Princess Diana's divorce lawyer, Julius's work has earned him recognition and appreciation from literary scholars, historians, activists, and Jewish community leaders.

An attorney and deputy chairman at London law firm Mishcon de Reya, Julius defended Deborah Lipstadt and Penguin Books in the libel case brought by Holocaust denier David Irving. In a 2000 judgment in Lipstadt's favor, Judge Charles Gray explicitly named Irving as "anti-Semitic and racist."

Julius chairs the London Consortium, a multi- and interdisciplinary graduate school at the University of London, and teaches as a visiting professor in law and literature at Birkbeck College. He also continues to serve as vice-president of the Diana, Princess of Wales Memorial Fund, which he helped found following Princess Diana's death in 1997.

Julius's authorship, however, may represent his most lasting impact on the causes he carries. Trials of the Diaspora: A History of Anti-Semitism in England (2010) was hailed by Harold Bloom as "a strong, somber book," and its author "a truth-teller, and authentic enough to stand against the English literary establishment." Philip Roth expressed gratitude that this "essential history" was "written by a man with the extraordinary fluency, staggering erudition, scholarly integrity, intellectual acumen, and moral discernment of Anthony Julius." Julius's groundbreaking T.S. Eliot, Anti-Semitism, and Literary Form (1995), offered the first deep examination of Eliot's oft-overlooked hatred of Jews and Judaism and was called by The New York Times "an important – and long overdue – book."

Anthony Julius's talk opens a series on New Anti-Semitism with support from Claremont McKenna's Office of the President, the Dean of the Faculty, and the Athenaeum.