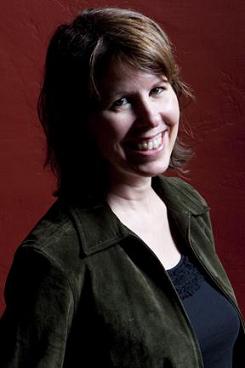 From Jane Austen to Feminist Hulk: Gender Studies in a Digital Age
AUDREY BILGER
WEDNESDAY, SEPTEMBER 21, 2011
In her 17 years here, Audrey Bilger has found numerous ways to contribute to CMC's mission as an institution that values a well-rounded education – and writing. An associate professor of literature, Bilger's scholarship focuses on women's satire and comedy through the ages, on the history of the English novel, and on the shifting meanings of marriage. She is a committed and highly regarded teacher, who dedicates a great deal of energy to getting CMCers to love writing and to do it well.

Last year Bilger became the first Faculty Director of the Center for Writing and Public Discourse. As its director, Bilger helmed the Center's transition to a new space in the Kravis Center, and a new outlook – reflected in the revised name. As part of a college-wide effort to enhance writing skills, the Center for Writing and Public Discourse has broadened its mission, and Bilger has begun developing writing-related programs that will serve the needs of faculty and staff, as well as students.

Bilger has been a co-coordinator of the gender studies sequence since 1995, and an extended faculty member at Claremont Graduate University since 2000. From 2002 to 2004, she served as chair of the Claremont McKenna College Department of Literature.

Audrey Bilger authored Laughing Feminism: Subversive Comedy in Frances Burney, Maria Edgeworth, and Jane Austen (1998), edited the Broadview Literary Texts critical edition of Jane Collier's satirical essay, The Art of Ingeniously Tormenting (2003), and co-edited the forthcoming Here Come the Brides! Love and Marriage, Lesbian-Style (2012). Her work has appeared in both academic journals and more mainstream feminist publications, such as Ms. and Bitch magazines. She is a regular blogger for Ms.

Before coming to CMC, Bilger taught in the English Departments at Oberlin College and the University of Virginia. She completed her M.A. and Ph.D. in English at the University of Virginia and her undergraduate work in Philosophy at Oklahoma State.